Learn The Necessary Business And Marketing Skills To Start An Online Business & Beat Ever-Changing And Highly Competitive Online Marketplace To Make Real Money Online.
The Affiliate Indians Blueprint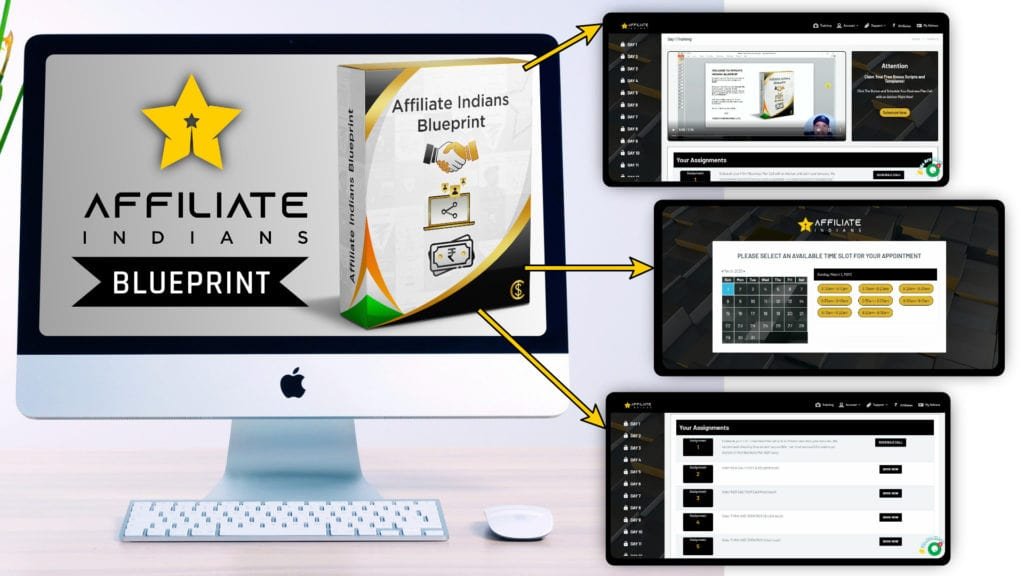 The Affiliate Indians Blueprint is an action-oriented training program that will prepare you to start a business and begin earning money online in next 15 days. There is nothing else like this. This Blueprint will save you countless hours, weeks, months, even years from sifting through the insane overload of information online from shady sources. We'll give you a powerful training video each day, along with purposeful assignments to complete – along with us. We will personally help you develop your business plan and get it into action. By Day 15 you will be equipped with knowledge most take years to gain, a clear business plan and the confidence to put it into action. Go ahead – let us help you change your entire life in just 15 days.
This Blueprint is packed full of training, education and resources to start, grow and scale your online business. Courses include "The Journey To 250,000 YouTube Subscribers" and "Sales Secrets From The 5-Billion Dollar Man". Members will also learn live and get real-time feedback each week on live Q&A webinars from the CEO & Top-Earners. This curriculum, and the way it's delivered, is the perfect way to grow your skills and your business without getting bogged down by information overload.
Make Rs. 2,00,000 per month as an Affiliate Marketer
This site is not a part of the Facebook website or Facebook Inc. Additionally, This site is NOT endorsed by Facebook in any way. FACEBOOK is a trademark of FACEBOOK, Inc.

Disclaimer: Important Earnings and Legal Disclaimer Earnings and income representations made by Cash influencer, CashInfluencer.in (collectively, "Cash Influencer Programs") are aspirational statements only of your earnings potential. The success of Cash Influencer, testimonials and other examples used are exceptional, non-typical results and are not intended to be and are not a guarantee that you or others will achieve the same results. Individual results will always vary and yours will depend entirely on your individual capacity, work ethic, business skills and experience, level of motivation, diligence in applying the Cash Influencer Programs or Affiliates Recommended Programs, the economy, the normal and unforeseen risks of doing business, and other factors.

The Cash Influencer Programs, and Prakhar Kulshrestha individually, are not responsible for your actions. You are solely responsible for your own moves and decisions and the evaluation and use of our products and services should be based on your own due diligence. You agree that the Cash Influencer Programs are not liable to you in any way for your results in using our products and services. See our Terms & Conditions for our full disclaimer of liability and other restrictions. The Cash influencer Programs and Recommended Affiliate Products, including Prakhar Kulshrestha personally, may receive compensation for products and services they recommend to you. Prakhar Kulshrestha personally uses a recommended resource unless it states otherwise!.
Copyright © 2020 Affiliate Indians